Efabless is committed to serving its community with the world's first crowdsourcing platform for analog and mixed signal IP and ICs. On July 13, 2016 Efabless announced important hires to the team that is making that dream a reality.
Tim EdwardsTim Edwards joined Efabless from Analog Devices. Many of you may know Tim as the host of Open Circuit Design (http://opencircuitdesign.com). This website is the repository for the suite of open-source EDA tools including magic, qflow, and xcircuit. Tim has an MSEE from Stanford and a PhD from Johns Hopkins. Tim will serve as our Senior Vice President of Analog and Platform.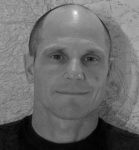 Greg Shaurette also joined this month as Senior Vice President in charge of our web and IT initiatives. Greg brings 30 years of experience in the field working with global companies and entrepreneurial ventures. Greg most recently worked with Wells Fargo. Greg's prior experience includes Bank of America; The Department of Public Health, SF; Kaiser Foundation Health Plan and American Management Systems.